​When your day is full, it's hard to stop and prepare food or go grab something (especially when things are flowing).
​And, ​as driven people, many of us choose to ​eat well ​because ​we know it effects how we perform throughout the day.
​Ultimately, eating healthy with a busy lifestyle can be very difficult.
​​Here are some ​common obstacles:
​What if it's been a long day and you don't have the energy (or desire) to make ​a time-intensive meal? (And, maybe you don't like to cook too.) ​

​How do you find truly quick​ and healthy ​meal ideas? ​(In case you​ will be doing some cooking and don't want to waste time figuring out what to eat.)

​What ​if you keep forgetting to eat because you're so laser focused on what you're working on? (Skipping meals usually results in eating junk later, along with other unpleasant side effects.)

​How do you continue to eat well when you're away from home? (In other words, how do you carry your diet with you?)
These are some things I struggled with myself (and I ​love to cook). ​So, as per my usual, I ​set out to find solutions to these problems.
​​Eat To Perform At Your Best and ​Optimize Your ​Time
​This page has all of my favorite actionable strategies so you don't sacrifice your well-being in the process of achieving your goals.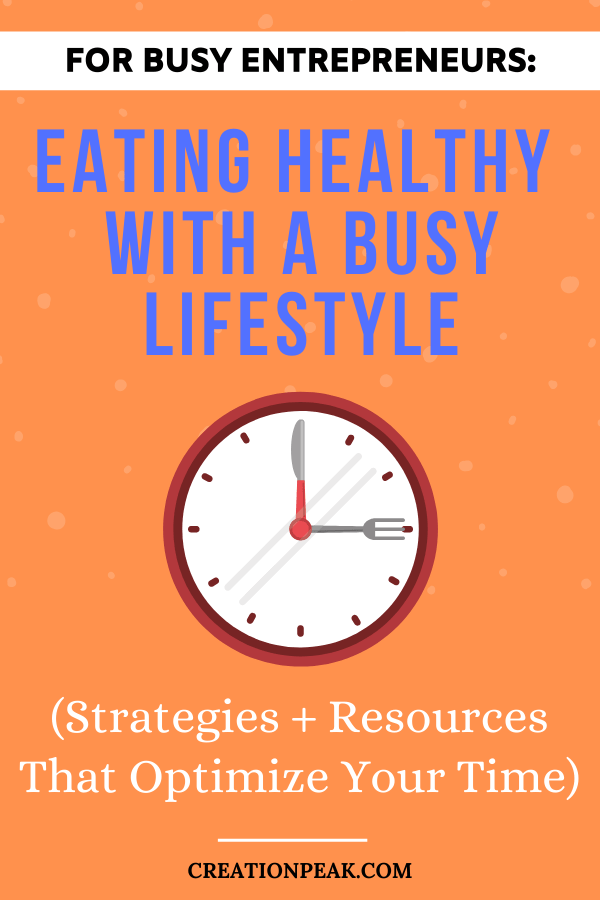 ​​About Th​e Eating Healthy for Busy Entrepreneurs Series
​I know the term "health​y" is subjective.
We all follow different diets, and one person's definition of what you should eat is going to differ from another.
​This series isn't about telling you ​how or what to eat. Instead, I'm describing strategies you can use to fuel the way you want ​for peak productivity. This way, you can practice eating healthy with a busy lifestyle in the way that ​works best for you.
​(For instance, in the "What To Cook This Week..." post, I ​​listed ​meals that ​take no more than 15 minutes of hand-on prep time, and also serve common diets such as Paleo, Vegan and Gluten Free.)
​What's Included
​Eating healthy typically involves cutting back on excess sugar and avoiding chemicals, preservatives, excess carbs, etc.. (All those things that can interrupt your daily performance.)
​Some of these articles recommend foods, ready-made meal services and healthy online retailers. These resources were all carefully curated to make sure they meet the criteria described above.
​I hope this information helps you!​ 🙂
(By the way, you can download this free playbook for all of this information in a portable format.)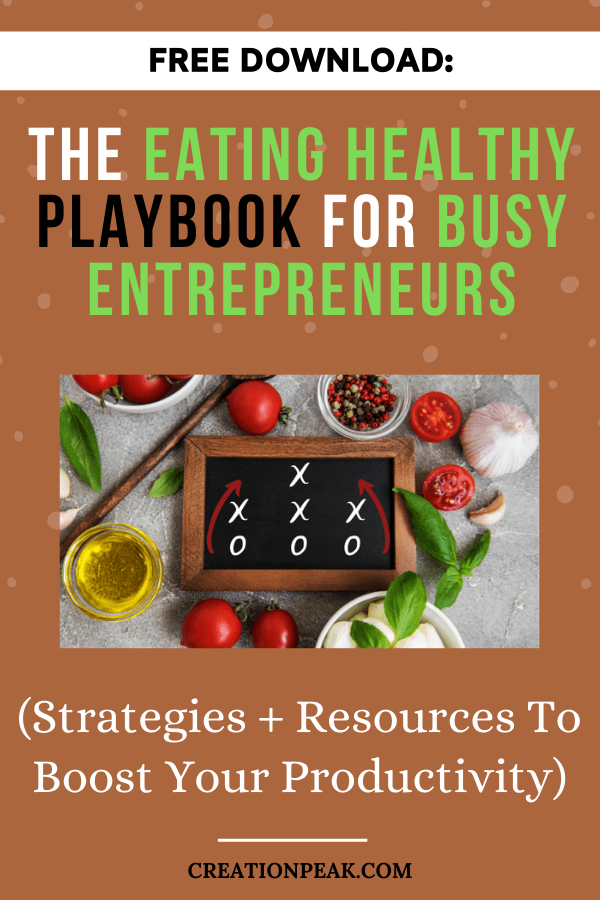 Quick Cooking Strategies
Ever have some foods in your fridge, but you don't know how to turn into a meal? This article contains my "Fridge Meal Formula" where you can see how to make something delicious within 30 minutes.
---
​It's hard to find a truly fast recipe that serves your particular diet protocol. For example, you might find something that works for your diet, BUT it has a time-intensive preparation step or requires that you dirty a bunch of dishes.
No thanks.
I did a bunch of searches and came up with this curated page of quick recipes that serve many different diets.
---
Sourcing Healthy Foods
​This is my favorite list of retailers who sell healthy ​foods online. You can find pantry staples, grass-fed beef, wild-caught seafood, organic produce, ​organic meal delivery services and more for various diets.
---
​​Not only are healthy grab and go snacks awesome for around the house​ when you need the extra fuel, but they're also lifesavers when you're busy or need to travel. ​Here's a list of 10 Thrive Market snacks t​hat don't require refrigeration and serve many diets.
---
Disclosure: The links below are affiliate links, which means I earn a commission if you make a purchase using my link. This is at no additional cost to you. I'm only making this recommendation because I personally use this service and believe it will be valuable to you too. Thanks for your support!
​Thrive Market carries all kinds of organic foods online, as well as meats, seafood, healthy household items, pet supplies and more. The best part is they sell these products at wholesale prices. In the video below, I give you a tour ​of Thrive Market and show you how much money I've personally saved with them.
(By the way, if you're new to Thrive Market, you can get 25% OFF your first order and a FREE gift when you join. 🙂 )
Must-Have Kitchen Tools
If you're living a productive lifestyle (or desire one), these two kitchen tools ​are a must-have! ​In fact, I use them for most of my meals. One is perfect for one-pot meals and easy cleanup. The other can automatically stop cooking your food when it's done and ​just keep it warm. How cool is that?!? (And, this is ​​so incredibly useful if you get involved in something and forget to come back in time… no more burned food!) ​​
Traveling and Eating Strategies
One of the criteria for this series is that it has to address common obstacles that entrepreneurs (and seriously focused people) ​face when it comes to eating healthy. For me, traveling with my diet has been a major issue.
​​​Bulletproof Keto Coffee On The Go
​​​​​​​If you drink Bulletproof coffee or ​other type of keto coffee​, this video shows you how you can make it when you travel. ​​​(​These are the tools and recipe I used when​ I went to Europe last year.​)
Coming Up
​This is a series in progress, and as such, I'll be adding to it to give you the best ​resource possible.
​I really hope you find these articles helpful. If you do, would you please share it with others that you think would like it too? Thanks so much! 🙂