​If you're a busy adult, here are 10 of the best Thrive Market products for healthy grab and go snacks (includes printable shopping list). You'll also see my Thrive Market review where I show you what it's like to shop this online marketplace and how much money I've personally saved (and counting!)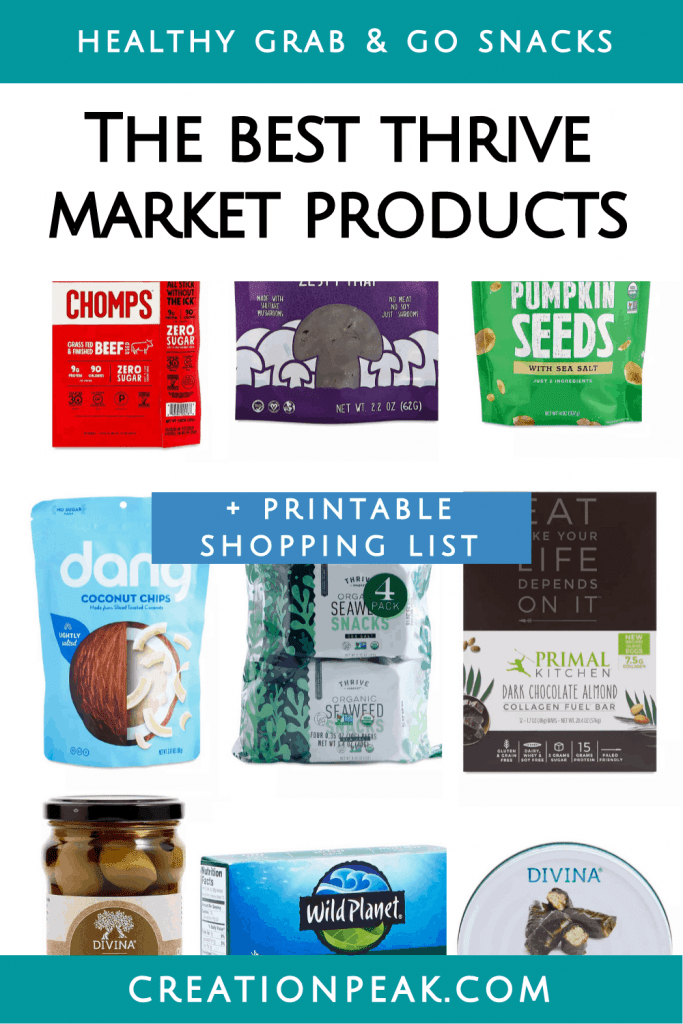 As an entrepreneur or someone that works from home, it's easy to get caught up in what you're doing.
And, does this sound familiar?
​I tend to get so laser focused that I don't stop to eat. By ​the end of the day, I'm starving and end up eating ​junk.
​And, who can blame us when this happens? ​
We learn early on t​o just push through until our tasks are done. These qualities, although admirable, can be to the detriment of our health if we're not careful.
Having healthy grab and go snacks really helps. You're less likely to deal with things like hunger or digestion issues, which, ultimately, steals time away from your projects.
Besides eating healthy, here's what also makes a big difference…
​Stock up on healthy non-perishable foods that don't require refrigeration. ​This way, ​you can supplement between meals (if needed), grab something on the go or keep these ​healthy snacks in your work space​ so they're right there in front of you.
​My favorite resource is Thrive Market. (You'll find more about this online grocery store below.) I've curated a list of the 10 best things to buy on Thrive Market when it comes to having healthy grab and go snacks on hand.
(By the way, here's the Thrive snacks shopping list in case you want to print it out ahead of time.)
​The Best Thrive Market Snacks
​Here's how each item made the list: ​
The​y are non-perishable foods. (​They don't need ​to be refrigerated, but some​ items require refrigeration after opening.)
The​y don't ​need prep work. (You can just open and eat.)
​They are rea​l foods meaning they don't contain ​things like chemicals, additives and other performance-robbing ingredients.
​They have ​7​g or less sugar per serving. (Helps avoid sugar crashes later.)
​​And, since we all ​follow different diets, I included a variety of choices​ so you'll have a better chance of finding ​options that work for you.
​Disclosure: This page contains affiliate links, which means I earn a commission if you make a purchase using my links. This is at no additional cost to you. I've enjoyed being a Thrive Market member for years, which is why I'm recommending them.
Thrive Market Shopping List
​1. Jerky​​
Popular Meat Jerky On Thrive Market: CHOMPS Original Grass-Fed Beef Snack Sticks (Certified Gluten Free)​

Popular Vegan / Vegetarian Jerky On Thrive Market: Pan's Mushroom Jerky Zesty Thai Mushroom Jerky (Certified Vegan and Vegetarian)
2. Nuts & Seeds
​Popular ​Seeds On Thrive Market: Go Raw Organic Sprouted Pumpkin Seeds
​3. Coconut Chips​
Popular Coconut Chips On Thrive Market:​ Dang Unsweetened Toasted Coconut Chips, Lightly Salted
4. Roasted Seaweed​
Popular Roasted Seaweed On Thrive Market: Thrive Market Sea Salt Seaweed Snacks
​5. Protein Bars
​Popular ​Paleo Protein Bar On Thrive Market: Primal Kitchen Dark Chocolate Almond Collagen Fuel Bar (Paleo Friendly, Keto Friendly)​

Popular​ Vegan / Vegetarian Protein Bar On Thrive Market: Dang Chocolate Sea Salt Bar (Vegetarian, Vegan, Keto)
​6. Olives
​Popular Olives On Thrive Market: Divina Organic Green Olives Pitted
Tips: This item is found in the "Condiments" section. Refrigerate after opening. ​
​7. Dolmas (Stuffed Grape Leaves)
Divina Dolmas, Stuffed Grape Leaves ​
Tips: This item is found in the "Condiments" section. Refrigerate after opening.
​8. Sardines​
Popular Sardines On Thrive Market:
Wild Planet Wild Sardines in Extra Virgin Olive Oil, Lightly Smoked​
Tips: This item is found under the "Canned & Packaged Food" section. Refrigerate after opening. ​
​​9. Coconut Butter / Nut Butter
Artisana Organics Raw COCONUT Butter Squeeze Packs (Keto):

Artisana Organics Organic Raw ALMOND Butter Squeeze Packs (Organic)
Tips: These products come in individual packs (easier ​to carry with you). ​
​10. Chocolate​
Popular Chocolate On Thrive Market:
Hu Chocolate-Covered Hunks, Cashews + Vanilla Bean (Gluten Free, Vegan, Paleo)
Tips: ​This item is listed under the "Candy" section.
​How Does Thrive Market Work?
​Now that you've seen a sampling of Thrive Market products, here's some more information in case you're brand new to this online store.
Thrive Market is a membership-based internet market that delivers healthy groceries to your home. This store has a huge variety of products that include non-GMO, organic, sustainable and non-toxic items.
Want to know the best part?
Th​rive Market offers their products at wholesale prices. That's a major perk to being a member. Many people describe it as being a healthy Costco.
​GET AN EXTRA 25% OFF + FREE GIFT ON YOUR FIRST ORDER
Thrive Market Goods
Besides Thrive snacks, this store stocks foods like pantry staples, meat & seafood, frozen meals, soups, chocolate, protein shakes and more. And, these foods support all sorts of diets and values.
But wait; there's more. 🙂
You'll also find categories including household supplies, supplements, beauty, pets, wine and baby & kids. They're always adding to their inventory.
How Much Is A Thrive Market Membership?
As of this writing, Thrive Market's subscription service is $59.95 on a yearly basis or $9.95 monthly. This fee allows you to get the wholesale cost because Thrive cuts out the middleman of a store and passes these savings onto you.
Further, if you spend over $49, you get free shipping and access to member deals and free gifts.
I typically place monthly orders for all my organic pantry staples, chemical-free household items, pet products and personal supplies. It's not hard to get to this amount and get the free shipping.
(If you're brand new to Thrive Market, you can get 25% off your first order.)
Is Thrive Market Worth It?
Yes.
I don't have a Costco membership, but I often do a Thrive Market vs Amazon comparison. Nine times out of ten, Thrive Market has the better prices for what I'm buying.
(Plus, I love getting the free gifts with my order, which aren't just trial-size versions of items I'll never use.)
Here's a screenshot of my lifetime and annual savings to date:
As you can see, that's a lot of savings and well worth the $59.95 annual membership fee. 🙂
Thrive Market Review
A lot of Thrive Market reviews contain unboxing videos or list the best Thrive products for different categories.
Instead, I thought it would be helpful to give you an inside view of what it's like to shop Thrive Market. This way, you can get a sense of how to navigate this store when you become a new member. (Besides, you'll probably figure out what the best Thrive Market products are pretty quickly. 😉 )
Is Thrive Market Right For You?
If you're still on the fence, these are some major reasons why you would benefit from a membership:
You follow a particular diet and/or like to shop by certain values. (e.g., fair trade, Whole30 approved, certified B-corp, etc.).

You don't have any health food stores in your area.

You want to limit your trips to the store and prefer to have your healthy groceries delivered.
My Story with Thrive Market
I've been a Thrive Market member since 2015. The initial appeal was saving money and not having to drive to the store as often. (I used to live in Silicon Valley where traffic is horrendous!)
A couple years later, we moved and found no health food stores in my new town. I found it extremely hard to get foods that supported my Paleo diet. (Btw, here's the Thrive Market shop by diet page in case you're curious.)
Late last year, I was diagnosed with an autoimmune disorder. Clean eating is now an absolute necessity for me. It really helps that Thrive has an AIP diet section!
And, during 2020, I could still get what I needed. The shipping was delayed for the first month when everything went down, but things got back to normal very quickly!
Thrive Market Cons
Here are some things I don't like and hope will change:
Some of your favorite brands may disappear from the marketplace. (Thrive usually has other options, but we all like what we like.)

Thrive Market sometimes requires that you buy smaller items (like coconut milk and candy) in larger quantities. (It's not that bad. For example, you might have to buy 2 cans of coconut milk instead of just one.)

You can't get fresh fruits and veggies. (By the way, if you need a good resource for organic produce delivery, I recommend Farmbox Direct. [affiliate link])
Ultimately, I hope this helps you decide if you'll use Thrive Market enough to make having a membership worth it.
​Finding Thrive Snacks Online
Back to the healthy grab and go snacks:
Although Thrive Market has a "snacks" category, not all of the items in the list are found there.
Here are some of the other categories where these Thrive foods are found:
​Condiments (olives, dolmas)
Canned & Packaged Food (sardines)
​Candy (​dark chocolate)
​(Be sure to check out the Thrive Market review video above to see other ways to navigate this store.)
Also, I know the "best snacks on Thrive Market" is subjective. Because of this, here's a link to the Thrive snack page so you can take a look for yourself. (Plus, they're always adding to their store so I'm sure there's a lot more that fits into this healthy, fridge-free snacks category. 🙂)
Common Thrive Market FAQs
I hope you found these snack ideas and Thrive Market review helpful! Here's my Thrive discount link for 25% off your first order in case you want to check them out. 🙂
MORE POSTS ON EATING HEALTHY WITH A BUSY LIFESTYLE
​START: ​Eating Healthy with A Busy Lifestyle