This episode is all about making a daily task ​much easier because you probably have a lot on your plate (pun intended). Specifically, eating healthy for busy entrepreneurs is ​the topic of conversation because I know how challenging this can be.
​The idea is that you may choose to eat well because you know it helps you feel and perform better. (And, who doesn't want to kick butt in business?) Challenges like ​cooking meals quickly,​ sourcing healthy online retailers, finding healthy snacks and ​eating on the go make this really hard.
​That's why I came up with a free "playbook" to address these common pain points. In this podcast, I describe ​what this ​ebook covers so you ​learn:​​​​Eating strategies and resources to perform at your best while optimizing your time.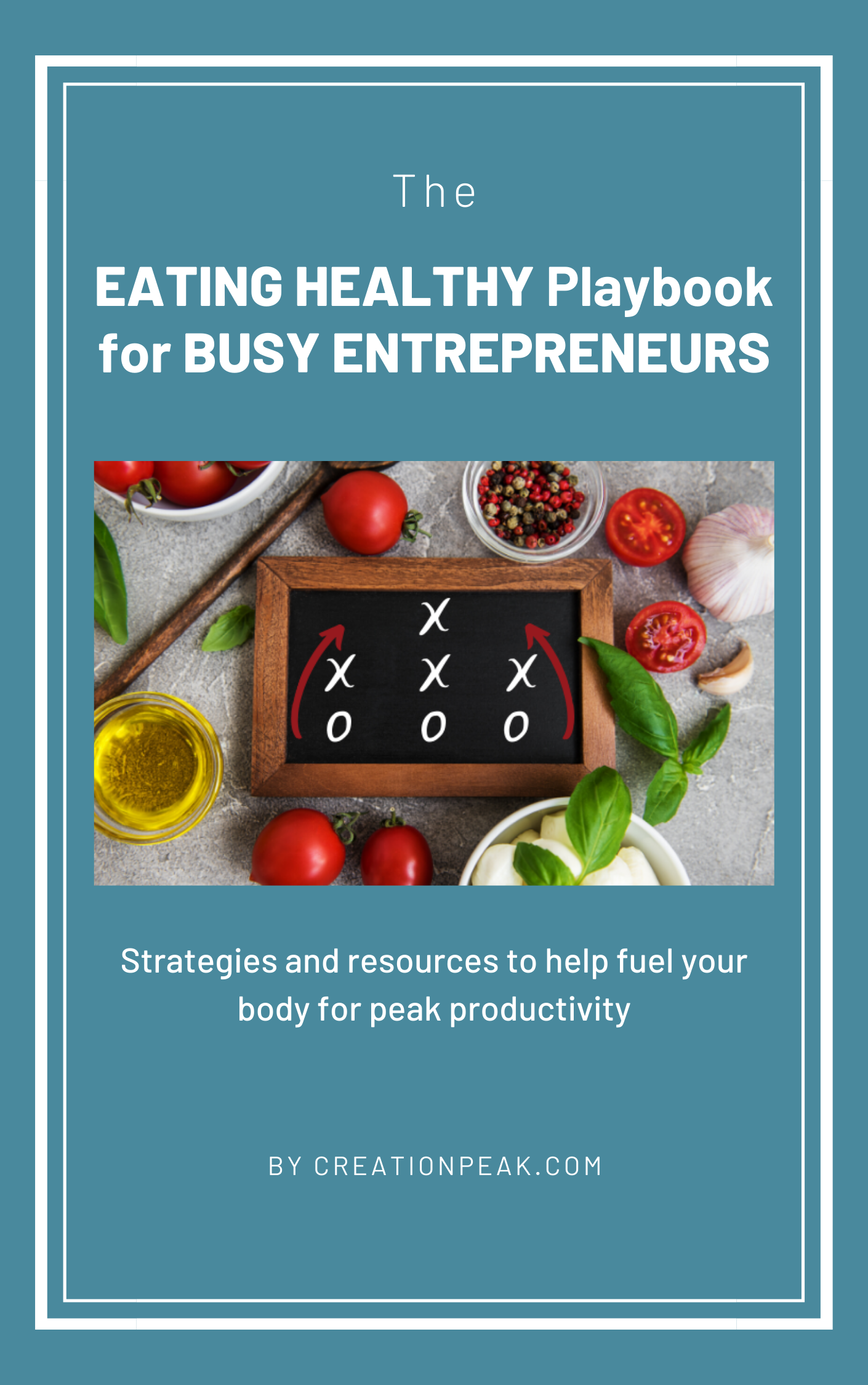 The Healthy Eating Playbook for Busy Entrepreneurs is my offering to you so that you can get back to putting your best work out there. You'll find the FREE download link below, along with other resources for this episode.
Enjoy!
​FREE Downloads:
​​​Making Bulletproof Coffee (Keto Coffee) On The Go:
​​Related Article Series:
​Thank you so much for your support. In the next episode, you can listen to Chapter 3 of Think and Grow Rich. Enjoy!
Transcript
(I'm using an automated transcription service so please excuse any weirdness in the text. Thanks for understanding! 🙂 )
Episode 006 – Eating Healthy for Busy Entrepreneurs
Hi everyone. Today's episode is brought to you by my FREE "Eating Healthy Playbook for Busy Entrepreneurs."
This ebook describes my go-to strategies and resources that help you fuel your body for peak productivity. I designed this playbook to cover some common obstacles that people with busy lifestyles have when they want to eat well.
For example, strategies to throw together some quick meals at home and resources that help you travel and carry your diet with you. So be sure to stick around because this is all coming up. And if this is your first time here, please don't forget to subscribe.I'm really excited to be able to offer this resource to you all. On my blog and podcast, you'll notice that I share information from other people, but this one's coming from me.
As I was putting this episode together, I was really curious, so I Googled the words "eating healthy" with "busy entrepreneur" and "busy lifestyle" and I got several results from places like Entrepreneur Magazine, Success, Inc, Forbes, and they all seem to have the same types of general tips besides things like drinking lots of water. I noticed that they all commonly kept repeating things like keeping a stash of snacks in your workplace and investing in a slow cooker (that one kind of surprised me) and finding simple recipes.
So I am happy to say that this playbook has the information that will help you do this. The topics in this playbook are actually ones that I personally struggled with and I could not find answers to and I just want to mention beforehand that it's not something that is meant to tell you how or what to eat.
Not at all. I'm not a medical professional, but as a an entrepreneur, an online business, a blogger, I noticed that I was really struggling with feeding myself and the way that I wanted to and fitting it into a busy day.And the thing is is that I'm very protective of my health habits. I've noticed personally that what I put into my body directly affects my output. So if this resonates with you, then you're really going to get a lot of use out of this guide because it's going to help you fuel yourself in the way that you choose. And it has all of the strategies and resources that I personally use to successfully do this every single day.So just a little bit of background. I actually used to have a lot of different health issues that would keep me from doing what I wanted to do.
For example, if anybody's ever had a migraine, you know that these types of ailments will put you down for a couple of days. And it was so debilitating and the types that I had, even after the pain was gone, I would just be so weak afterwards from it.
And I would have like a lot of stomach issues and things where again, it's the kind of situation where you have to pay attention to what's going on with your body because it will take you down. That's really frustrating when you're striving for something. And another thing was I was dealing with a lot of excess weight and for me personally, it was just making my body so tired at the end of the day. And I knew I had more to give and I knew that I wanted to continue creating what I was creating, but it was really hard.
So as a result of all of these things (and being a problem solver), I set out and I found that a lot of different foods were the culprit.
Turns out, a lot of these things were due to food intolerances. So what I did was I just started like testing my body on different protocols and figuring out what works, where I was getting results, when my mind was the clearest. And that became so precious to me. When I have a busy day or if I have to travel, I find myself being extra over-protective because it's not even about excess weight or anything. It's that I just don't want to incur another migraine or have the stomach problems. Noticing that certain ways of eating would get me out of brain fog to be able to think clearly is also very precious. So that's why I also became very hypervigilant given these reasons for wanting to eat well. I noticed that I had different obstacles that made it so difficult. Maybe you're familiar with this too?
For one thing, I ended up moving to an area that just didn't have the same amount of resources that it had in my last location. For example. It's really difficult to get things like organic vegetables. There's not really a CSA here or farmer's markets. We do have a farmer's market, but it's more for people promoting their artwork and such, which I love. But I actually go to these places to get clean produce, and we don't have anything like a Whole Foods or Trader Joe's. So right now we drive about 45 minutes to an hour just to get to that one store where we know we can get what we're looking for. And it's totally dependent on the weather too. We have to drive over a mountain to get to the town. It's just crazy. It's funny how life works, but that's one of the reasons why I became very diligent about sourcing and figuring out where to get certain resources.
Add to that, just having very busy days became another reason why I created this playbook. And I'm sure if you're an entrepreneur or an aspiring one, even if you're not an entrepreneur, if you are going after something, it takes your time, it takes everything. You have your best mind. And the last thing you might want to do is have to stop and eat. In fact, sometimes people don't eat and that creates other types of problems. And in my situation, I'm a blogger, a podcaster, I run an online business that takes a lot of dedication. If you do this, you know that that's true and it's really hard when you're working on a particular project to just have to be able to figure out food or to be able to go, go and get it if you're going to go and get it or to stop and make something that takes planning as well.
And, it's really difficult when you want to give your all into what you're creating, but you have to eat every day. So these were just some of the reasons why I had to put this playbook together. It wasn't just to offer something to everybody but also be used as a go-to resource for myself. So one of my favorite strategies in this book is the quick cooking strategies. If you do make your own meals at home, this is one of my favorite chapters because it describes how to make meals using what you have in your fridge. In fact, it gives you what I call the "fridge meal formula." This was a lot of fun to put together, so I thought about it and I said, okay, here's a way that you can use one single pan, no big cleanup to just put food in there, set your timer, walk away, come back, and within a reasonable amount of time. It takes about 30 minutes from start to finish. Then, you have something that actually tastes delicious. Also, another thing that I did, and I put a lot of thought into this was quick, truly quick recipes. These are not my own recipes, but what I did was scour the internet and look through a bunch of recipes to find ones that were truly quick and what I call "busy lifestyle friendly." What I mean by that is prep time. They don't take more than 15 minutes of hands on prep time. You don't have to make a separate component like a sauce. You don't require that food needs to be marinated the night before. That's a big one for me because a lot of times if I am cooking at home and I'm trying to put something together really quick, I cannot stand when I look for recipes and find that the night before I was supposed to have something marinated.They also cannot have a lot of cleanup. No, I don't want to use 10 different tools in order to make this food. And you don't have to do something time consuming beforehand. For example, draining something for 45 minutes. I've just come across a lot of different recipes and they will claim that they take a certain amount of time and all of those other factors play into it. And it's frustrating. So what I did was I scoured the internet and I know that we all eat differently. So what I did was list five different recipes for some of the more commonly followed diet protocols. For example, I have AIP, recipes, Bulletproof recipes, gluten-free, keto, let's see what else? Low FODMAP recipes, paleo recipes, vegan recipes, and vegetarian recipes. So in another chapter I have my sourcing healthy food recipes. As you recall I was talking about how in my particular area it's very difficult to get the types of foods that I want.
So if you also struggle with this, this is going to really save you some time. But even if you do live in an area that has a lot of access, maybe the stores you have don't carry a particular brand you like or a particular food that you like or maybe you just don't have time to get to the store. So all of these different options offer you home delivery. And I have personal experience with all of these retailers so I can say yes, these, these are good solid retailers. A lot of them I've used for years.The way I broke this chapter up was by different categories. For example, the first one is grass fed meats. So if you also enjoy things like grass fed and finished beef, pastured chicken, heritage pork, and wild caught seafood.You'll find a resource for organic produce. And, I'm particularly excited about this one because it took some time to find something that was going to ship the food in a reliable way and that I can say I've gotten many boxes from them and the food is is good and it looks great and it comes safely to me. I also have options for pantry staples, so things like bone broth, MCT oil if you use it. Organic spices.Also, this is another big one -- organic meal delivery services. These are services that provide you ready-to-eat meals that will serve various diets and they contain very high quality ingredients. So if you don't want to go out and you don't want to cook, this is an ideal solution. As part of the same chapter, I have another section that lists a bunch of healthy non-perishable snacks. This one I thought was really important as well to include. The reason why is sometimes you have to travel.
Maybe you're spending the day in the car or maybe you just keep forgetting to eat. In fact, that's the title of the post that it came from. And it's really important to be able to have the fuel you need so that you can keep going. Being that they're non-perishable means no refrigeration. So these types of snacks had to meet a criteria again to be very "busy lifestyle friendly." So they, besides not being needing to be refrigerated, they don't need any sort of prep work. And I know the word "healthy" that means something different to everybody. But the reason why I call it "healthy" is because they don't have chemicals, additives and other performance-robbing ingredients. Also, I know that a lot of people tend to watch their sugar intake. So each of these types of snacks has less than 7 grams or less of sugar per serving so that you can avoid sugar crashes.Lastly, I want to mention that this list has a lot of items that can actually go with you on the airplane because I know that's a big concern too, given that you can't bring liquids. They're easy to travel with. In the next section I have what's called "kitchen tools strategies." So this particular chapter is about cookware that optimizes your time. Again, if you're going to cook for yourself, you do not want to have a massive cleanup at the end. In addition, they're known as what can be called "one-pan meals," meaning you're using that one singular item to make the whole meal. And I listed a couple of things here that would be considered a "safer cookware." So these items, the materials they're made out of are not known for leaching harmful chemicals into the food. One of the items I list in there is an instant pot.So if you've heard of the Instant Pot or you don't know what this is, I do have a link to a YouTube video. And it's actually pretty funny because please excuse the shaky camera work. I'm still getting my bearings when it comes to making videos. But in this particular video I demonstrated how you can make an actual whole chicken in the Instant Pot very quickly. (It was pretty funny because I think I almost dropped the chicken at one point, but I recovered pretty well.)And lastly, I have a chapter on traveling and eating strategies. Basically, how can you eat on the go? So if you choose to carry your food with you, you actually need a plan for it because there's almost like an art to being able to travel with your food and make sure it stays good and all that. So I listed all of my favorite resources that definitely make it possible.I thought it was really important to include this chapter because eating on the go is really tricky. If you are out and about, you don't know exactly what kind of food is going to be available to you. And that's especially true if you're going to be in an unfamiliar environment. Also, you might be watching your diet very carefully because you know that certain foods affect your performance. For example, if I eat gluten and soy, that's going to take me down and that tends to be in everything. So if you know what that's like, then it's especially important that you have a plan and also when things get really busy, crazy busy and you're out and about, you may not be able to end up eating at all. If you do intermittent fasting, this might not be a big deal, but it's still should be your choice when you eat.
In this chapter, you'll find a quick reference chart that lists some of my favorite resources for containers. So you know you what options are available for carrying your food and keeping it fresh. You'll also find specific food items that are very portable and also get tools for making keto coffee. Even if you don't drink keto coffee or what they call "Bulletproof coffee" or "fat coffee," you can still get a lot of value out of this because you can still, if you enjoy coffee, have the tools that make it possible to make coffee on the road or drink other beverages. And just a quick note on that keto coffee, I actually have a new YouTube video up that shows how I personally make, I use Bulletproof products. So how I make Bulletproof coffee on the go. So I'll make sure to link that video in the show notes. So this playbook is about, I think it's 25 pages or so. Don't be overwhelmed by the amount of pages. It's definitely not meant to be read from cover to cover. I have a table of contents set up so you can just jump to this section that most interests you, but more importantly, this information is meant to serve you. If you're like-minded in that nutrition is directly going to impact your performance, then this playbook is going to help you through the common sticking points. And I really care about you reaching your goals. You know, I think we're all here to help each other and you just never know how your talents are going to greatly help somebody. So thank you for allowing me to contribute in this way. I just want to mention that before I sign off here you can get this free playbook on the site. It's called "The Eating Healthy Playbook for Busy Entrepreneurs."
You can find it at https://creationpeak.com/eat
Please enjoy!
Sign up to receive email updates
Enter your name and email address below and I'll send you periodic updates about the podcast.