​​​This episode is a reading of Think and Grow Rich Chapter 3 called "Faith." ​This is the second step towards riches. Napoleon Hill describes what faith is, how to develop it and the role that faith plays in turning thoughts into their physical counterparts.I​ tend to think of this chapter as the one where Napoleon Hill puts the control back in our hands. Hill explains how faith happens with repeated instructions to the subconscious mind via the principle of auto-suggestion.
​Why ​should we learn this?
Hill writes:
…​any impulse of thought which is repeatedly passed on to the subconscious mind is, finally, accepted and acted upon by the subconscious mind, which proceeds to translate that impulse into it's physical equivalent, by the most practical procedure available. — Napoleon Hill
Essentially, you learn how to turn your thoughts into what you want.
​
​And, you want to get your subconscious mind ​aligned with ​your goals. ​Thoughts going against what ​you're striving for may be the cause of why you're not ​seeing results.
​This chapter also gives examples of people in history who demonstrate these principles​. For example, Abraham Lincoln and Mahatma Gandhi.
​Plus, you'll ​hear the fascinating story of how Charles M. Schwab's idea brought forth the United States Steel Corporation​.
Enjoy!
Think and Grow Rich Self Confidence Formula​
(Copied from 1937 public domain edition of this book)
​As an added bonus, be sure to ​​get your free downloads containing this formula, along with other chapter resources for Think and Grow Rich.
First. I know that I have the ability to achieve the object of my Definite Purpose in life, therefore, I DEMAND of myself persistent, continuous action toward its attainment, and I here and now promise to render such action.

Second. I realize the dominating thoughts of my mind will eventually reproduce themselves in outward, physical action, and gradually transform themselves into physical reality, therefore, I will concentrate my thoughts for thirty minutes daily, upon the task of thinking of the person I intend to become, thereby creating in my mind a clear mental picture of that person.

Third. I know through the principle of auto-suggestion, any desire that I persistently hold in my mind will eventually seek expression through some practical means of attaining the object back of it, therefore, I will devote ten minutes daily to demanding of myself the development of SELF-CONFIDENCE.

Fourth. I have clearly written down a description of my DEFINITE CHIEF AIM in life, and I will never stop trying, until I shall have developed sufficient self-confidence for its attainment.

Fifth. I fully realize that no wealth or position can long endure, unless built upon truth and justice, therefore, I will engage in no transaction which does not benefit all whom it affects. I will succeed by attracting to myself the forces I wish to use, and the cooperation of other people. I will induce others to serve me, because of my willingness to serve others. I will eliminate hatred, envy, jealousy, selfishness, and cynicism, by developing love for all humanity, because I know that a negative attitude toward others can never bring me success. I will cause others to believe in me, because I will believe in them, and in myself.
​I will sign my name to this formula, commit it to memory, and repeat it aloud once a day, with full FAITH that it will gradually influence my THOUGHTS and ACTIONS so that I will become a self-reliant, and successful person.
​Link Mentioned In This Episode: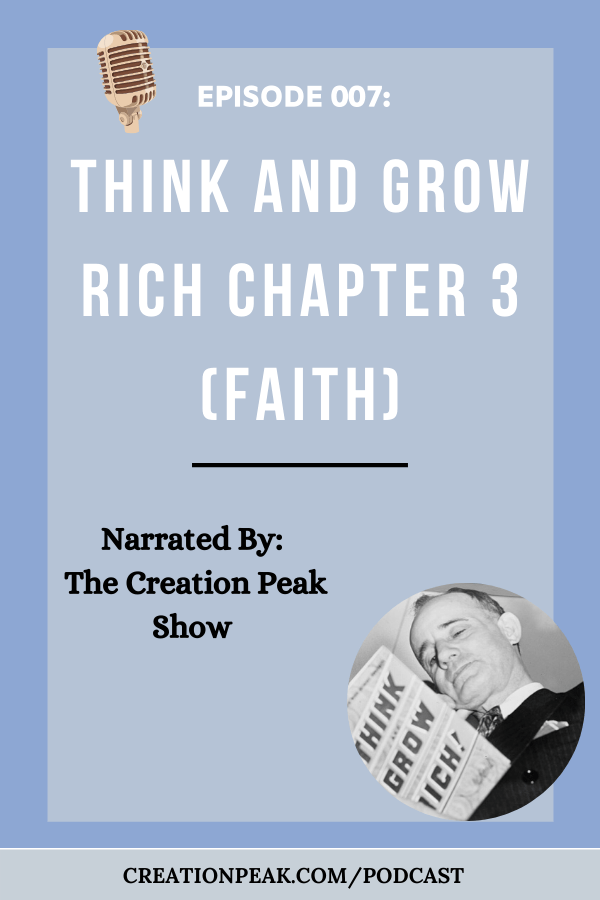 ​Thank you so much for your support. ​Be sure to tune into the next episode. I publish twice monthly. Enjoy!
Transcript
(Instead of ​having transcripts for Think and Grow Rich chapter episodes, you can get the public domain version of the Think and Grow Rich PDF download. This is the version of the book that I'm reading on the podcast. 🙂 )