​In this episode, you can listen to ​Think and Grow Rich Chapter 2 called "Desire." Napoleon Hill calls ​this principle "the starting point of all achievement." ​
If you're a dreamer or someone who's been hit by misfortune or what ​would be considered a "disadvantage," you'll definitely want to ​​tune in.
Why?
​This ​chapter, in particular, describes how a burning desire, backed by faith, leads to incredible accomplishments.
​
​6 Steps for Transmuting DESIRE Into Its Financial Equivalent
(Copied from 1937 public domain edition of this book)
​Get this FREE PDF, along with other Think and Grow Rich chapter downloads.
​Fix in your mind the exact amount of money you desire. (Be definite in the amount.)

​Determine exactly what you intend to give in return for the money you desire.

Establish a definite date when you intend to possess the money you desire.

Create a definite plan for carrying out your desire, and begin at once, whether you are ready or not, to put this plan into action.

Write out a clear, concise statement of the amount of money you intend to acquire, name the time limit for its acquisition, state what you intend to give in return for the money, and describe clearly the plan through which you intend to accumulate it.

Read your written statement aloud, twice daily, once just before retiring at night, and once after arising in the morning. AS YOU READ — SEE AND FEEL AND BELIEVE YOURSELF ALREADY IN POSSESSION OF THE MONEY.
Hill writes ​that these steps came from Andrew Carnegie. Not only that, he says the information was scrutinized by Thomas A. Edison who ​reported that the steps are essential for achieving ​"any definite goal."
​​Besides the 6 steps, you'll also listen to ​motivational stories of people who became successful after they went through some crisis.
​Napoleon Hill includes his own son, Blair, in of these stories. Despite not having ears, Blair learned to hear and communicate because of his burning desire to do so. It's a truly ​inspirational tale that helps demonstrate Hill's words on mixing faith with desire.
​I hope you enjoy it!
​Link Mentioned In This Episode: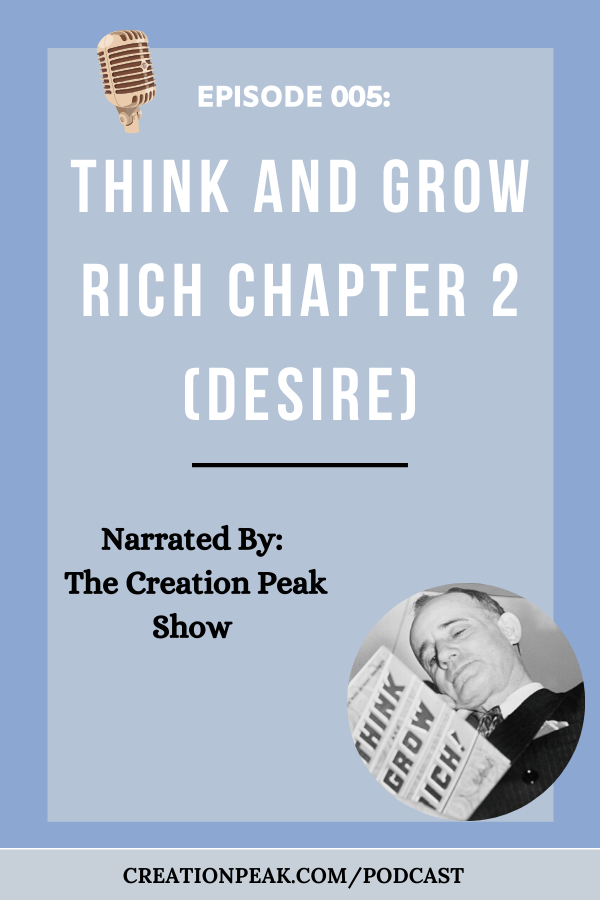 ​​Coming Up:
Thank you so much for your support. ​Please be sure to tune in for the next episode where I talk about eating healthy as a busy entrepreneur. Enjoy!
Transcript
(I​nstead of publishing transcripts ​for episodes where I read Think and Grow Rich, ​I've linked the​ public domain version of the ​​Think and Grow Rich PDF here​. This ​is the version of the book that I'm reading on the podcast. 🙂 )