​(Nope, there isn't some new ​way of eating called the "entrepreneur diet." 😉 I actually saw this phrase published in Entrepreneur Magazine and I liked it.)… So on with this post… As entrepreneurs, we know that health directly ​impacts our performance. Resources, such as organic food online, make ​eating well so much easier.​​
​Many agree that good food is a major factor, which is why so many ​​successful people cite the need to ​eat well.
Entrepreneur Magazine, ​for instance, published "The Entrepreneurial Diet for Business Success" article. In it, the author ​writes about healthy eating practices ​that improve mood, memory and drive (no matter the dietary protocol you choose).
​So what's stopping us from eating better when we ​​know it's so important?
As I see it, ​here are two of the biggest issues:
​Having a full schedule (i.e., not having time to get to the store, cook, etc.)
Access to resources (i.e., not living in an area with healthy food ​stores, CSAs, farmer's markets, etc.)
​(Cost, of course, is another​ consideration. That's why I have a solution for that too, which you'll read about below.)
A way to bypass these obstacles is by knowing how to find healthy foods online. This way, you know what's available to you, ​you have what you need to support your ​healthy eating goals and ​you save​ time by having foods (and even ​chef-prepared meals) delivered to your home​.
​Below, are my go-to sources for finding organic foods online.
​My intention in sharing this list (besides making things easier) is ​to help you follow your own entrepreneur diet so that you can create the healthiest version of yourself and, ultimately, be more successful in your business.​
​​About These ​Healthy Food Companies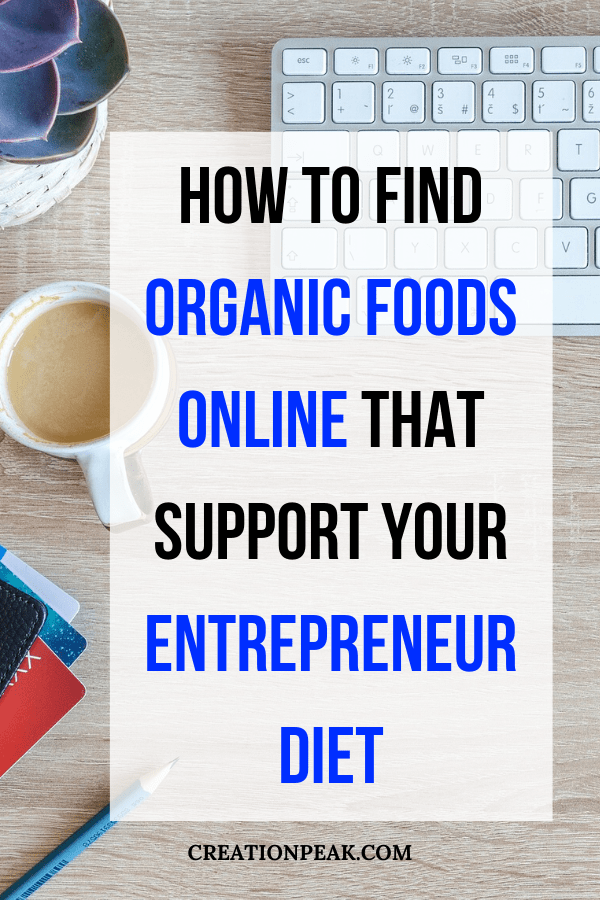 You'll find my online resources for everything including grass-fed meats, healthy pantry staples and ready-made organic meal delivery services. ​
​(Tip: By the way, ​if you came from this recipes post, here's where you can stock up on all the ingredients necessary to make those ​quick meals.) ​
​The Healthy Food Options
​​Listings are broken up as follows:
Grass-Fed Meats (grass-fed & finished beef, pastured chicken, heritage pork, etc.)
Wild-Caught Seafood (sustainably wild-caught fish, shellfish, seafood, etc.)
Pantry Staples (bone broth, MCT oil, organic spices, etc.)
​

​

​Protein Shakes (paleo and plant-based options)​​​
​

​

​Organic Meal Delivery Services (ready-to-eat meals that serve various diets and contain organic ingredients, high-quality proteins, etc.)
​​Note:
​​The title of each category doesn't necessarily include all of the online retailer's offerings. (For example, US Wellness ​has many other foods besides grass-fed beef.) Be sure to look through the site's "Shop" page so you don't miss something.
​Disclosure: ​Some of the links on this page are affiliate links, which means I earn a commission if you make a purchase using my link​s. This is at no additional cost to you. The products ​are recommended because they are useful and I believe they will bring value to you too, and not because of any commission I ​receive.
​Grass-Fed ​​Meat​
​US Wellness Meats: This online meat delivery service has many options including grass-fed & finished beef, heritage pork, free-range poultry and wild-caught seafood. You can also find specialty items like ​artisan chocolate, nutrient-dense bone broths, grass-fed butter and even ​raw pet food. They also offer products for specific diets including Keto and Whole 30​.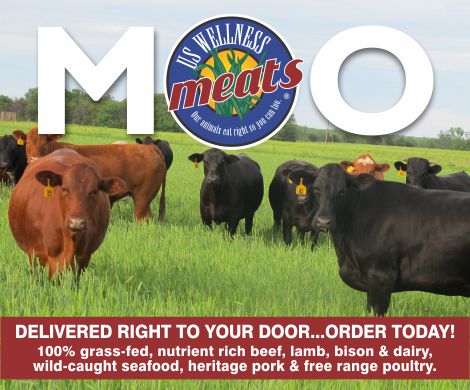 ​RELATED: ​What To Cook This Week If You Don't Have A Lot Of Time​
---
​Wild-Caught Seafood ​
Vital Choice Wild Seafoo​d & Organics: This wild seafood delivery service offers wild-caught fish, shellfish, canned and pouched seafood, premium proteins like grass-fed bison and pasture-raised pork. They also provide specialty products ​including organic foods and seasonings, keto and paleo-friendly bone broths and omega-3 supplements​.

​RELATED: ​Don't Have A Lot Of Time? Here Are Some Quick, Healthy Recipes
---
Organic ​Produce
Farmbox Direct: ​This ​home delivery service offers organic produce including fruits, vegetables, herbs and juicing kits. This is a great option if you don't have access to farmer's markets, CSAs or healthy grocery stores.​ The food comes in box sizes that range from small, medium and large.

You can specify whether you want just fruits, veggies or a mix in your box, and you can choose your delivery frequency. Additionally, you can ​specify what foods you like (or don't like​) so you only get what you're actually going to enjoy.

Enjoy Organic & Natural Produce at Farmbox Direct! Plus FREE SHIPPING in the Continental USA.
---
Organic Food Online (Best Prices)
Thrive Market: As I mentioned before, eating healthy can be expensive. Organic products and nutrient-dense meats definitely add up, but the payback in better health is worth it. One of the ways you can keep your costs down is by joining a membership-based retailer like Thrive Market. This online health food store sells healthy products at wholesale prices. (Many people describe them as the healthy Costco.) After paying an annual membership fee of $59.95, you get access to healthy living products at great discounts.

I've been a member of Thrive Market for years now and I always buy staples like raw coconut butter, bone broths and avocado oil. (Btw, I consistently check to make sure that I really am paying the lowest price on Thrive Market, and they never disappoint.)Besides the lower cost, a great perk is that Thrive Market offers free gifts with every purchase. They're also constantly adding to their product lines. If you're new to Thrive Market, the product selection can be overwhelming. Let me show you how to easily navigate the site in this video…
​Get 25% off + free shipping on your first Thrive Market order​.
​RELATED: ​​How To Eat Healthy and Still Be Productive
---
​Protein Shakes (Plant Based ​& Paleo Inspired)
JJ Virgin

(Amazon affiliate link)

: JJ Virgin is a noted nutrition and fitness expert​. She's written bestselling books ​that teach people how to get off sugar and drop seven of the most inflammatory foods that affect health and performance. (I've personally had great results following her information.)​ Because of ​JJ's books, I discovered her all-in-one protein shakes, which come in both a plant-based option ​and paleo-inspired blend.

Each serving has about 21g of protein. There is no dairy, gluten, corn or soy protein, eggs, artificial sweeteners or flavors in these products. And, in my opinion, ​both the chocolate and vanilla flavors taste really good! These shakes are definitely my go-to meal replacement when I need one.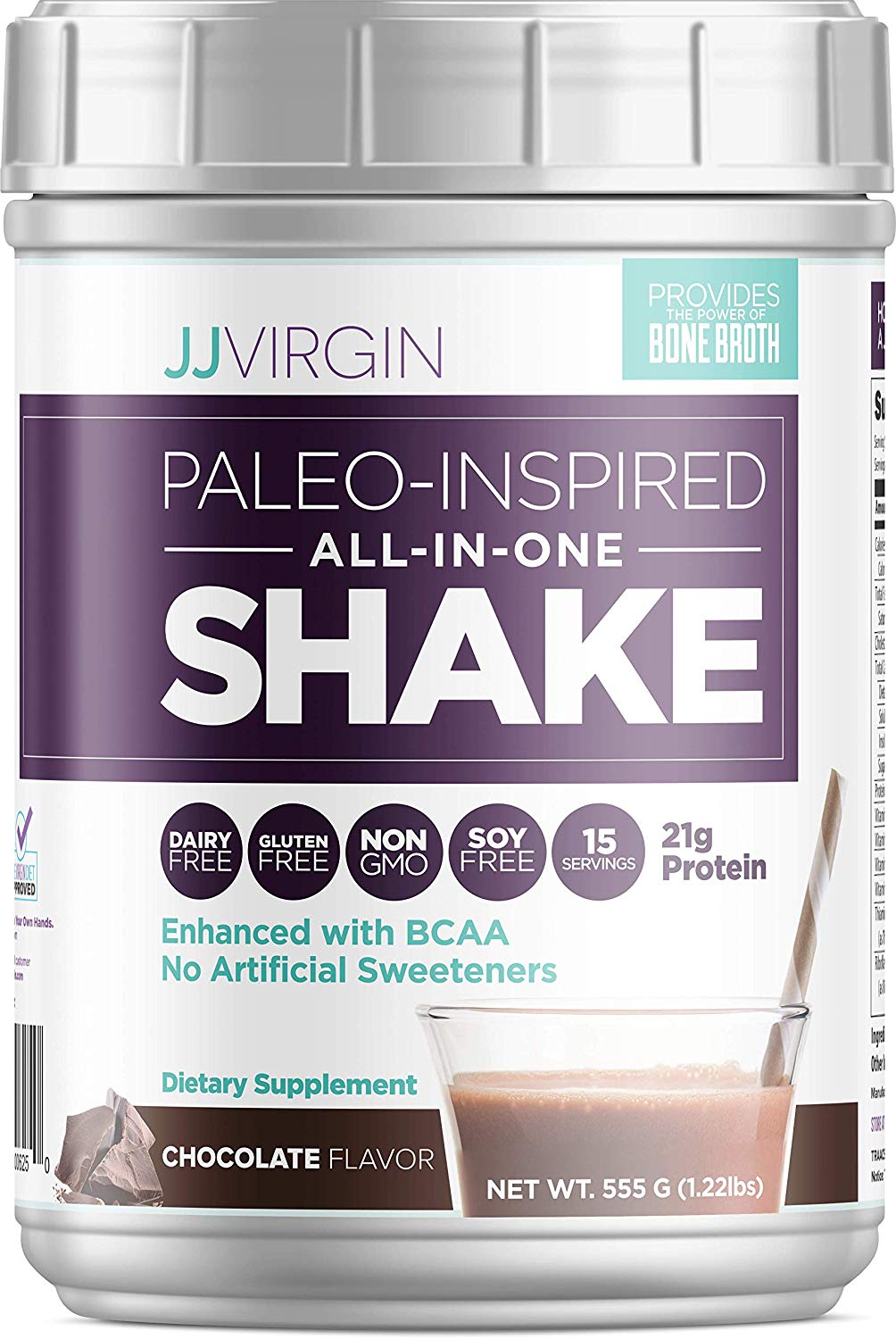 ---
​Organic Meal Delivery Services
​Because diets and food preferences vary, ​I'm including​ two options for ​healthy, ready-to-eat meals that you just heat and eat.​
​​All of these meal delivery services ​use ​high-quality ingredients and stay away from common ​allergenic foods like gluten and soy.
D​IETS:​ AIP, Gluten Free, Keto, Low FODMAP, Paleo
​One-Time Order or Subscription: Both
​About:​ These chef prepared meals use seasonal and organic ingredients and meat that is natural, grass fed, pastured and sustainably raised. ​Pete's Paleo ​has ​numerous options, from choosing breakfasts, lunches and dinners​, selecting paleo meals that ​come in smaller portion sizes and even adding extra sides/proteins to some meals. You ​have many ways you can order. For example, you can opt for large meal plans ​that cover a number of days and weeks, ​select a weekly subscription that ​delivers a set number of meals (every 1 or 2 weeks), or individually ​order ​5 or more meals by diet​. Meals are free of gluten, dairy and soy.​​​

Best For: ​Pete's Paleo changes their subscription menu based on what the farmers grow and harvest that week. This service is best for those who enjoy seasonal ​food and like being able to choose between placing one-time orders or subscribing to a regular service.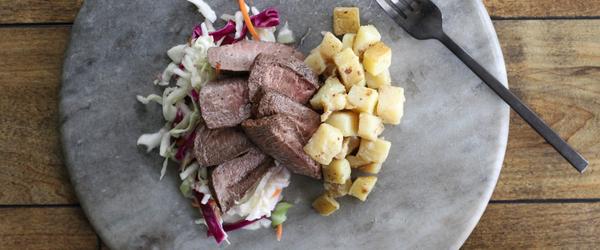 D​IETS:​ ​Keto, Paleo
​One-Time Order or Subscription: One-Time Order
​About:​ This meal delivery service offers a selection of paleo and keto meals that are free of gluten, soy, dairy​ and nuts. ​Paleo options have a protein and complex carb, such as butternut squash lasagna with grass-fed beef, while ​the keto options have lower carb counts ​like the smoked brisket and eggs meal. ​You can choose ​6, 14, 24, or 48 meals​, which are shipped frozen and then reheated by oven or microwave. They also have sampler boxes in case you need help deciding what to get. Ice Age Meals uses grass fed and organic meats, and they utilize organic ingredients whenever possible, but meals are not 100% organic.​​​​
Best For: ​​​​Ice Age Meals is best if you follow a keto or paleo diet, ​like having a ​consistent menu to choose from and prefer to place one-time orders rather than being part ​of a subscription service.
​​​I hope this list of online health food stores helps you stock your kitchen well.
​Please note there are other healthy ​food options online (besides the ones listed), but I wanted to include retailers that I've had personal experience with and know are great! Plus, we don't need any "analysis paralysis" happening. 😉
MORE POSTS ON ​EATING HEALTHY WITH A BUSY LIFESTYLE:
​START: Eating Healthy with A Busy Lifestyle