​If you ​saw this ​post on fast recipes, you may not have all the required ingredients to make one of those ​meals.​ (That's so annoying!) So here's ​where you may ask yourself, what's in your refrigerator?
​​(And, if ​you have a home-based business, food is especially important ​because you ​probably need to ​eat at home more than once​ a day. It definitely takes planning!)
​Protein shakes are great in a pinch, but maybe you don't ​drink them​ (or you just ran out out of your supply)​. ​Regardless, here's ​how to make a ​quick and healthy meal with the ingredients you have…
​The Fridge Meal Formula:
​(Expected Cook Time: Less than 30 mins)
Print The Fridge Meal Formula
​​​Heat a large skillet on medium-high heat. Add 1 to 2 TBSP of fat of choice (e.g., avocado oil, grass-fed butter, ghee). (I ​use this 12″ Lodge cast iron ​skillet ​because it's large enough to accommodate one-pot meals like this one, ​it's chemical-free cookware and, in my opinion, makes food taste awesome! ​Btw, the link is an Amazon affiliate link — I ​earn a small commission if you make a purchase using it, but I'm only recommending this product because ​it's one of my favorite kitchen tools and I believe you'll find it valuable too.)​​​
​

Optional

: Add chopped onions ​to the pan and let it cook for ​about 3 minutes until translucent. Add chopped garlic and cook for about 1 minute until fragrant.
Add ​​​your choice of protein and ​​season​, as you prefer. If ​you're using raw meat, allow it to cook until almost done to your liking before continuing.
Add your veggies and stir. ​​(Be sure to finely chop/shred thicker veggies like carrots, broccoli, ​kale, etc. so they cook faster.)
​Pour in 0.5 to 1 cup of broth (or water), turn the heat down to medium-low, and let it all ​simmer together for about 15 minutes. (Set your timer now so you don't forget to come back!)
​ Stir everything again, taste to make sure it's seasoned to your liking and enjoy!
* If you're following Keto or the Bulletproof Diet, you can also add a little MCT oil (Amazon affiliate link) to the top of ​your food for the extra healthy fat.
​** For carnivores, the beef franks and sausages from US Wellness (affiliate link) are perfect for this​ impromptu meal because you can just chop and heat!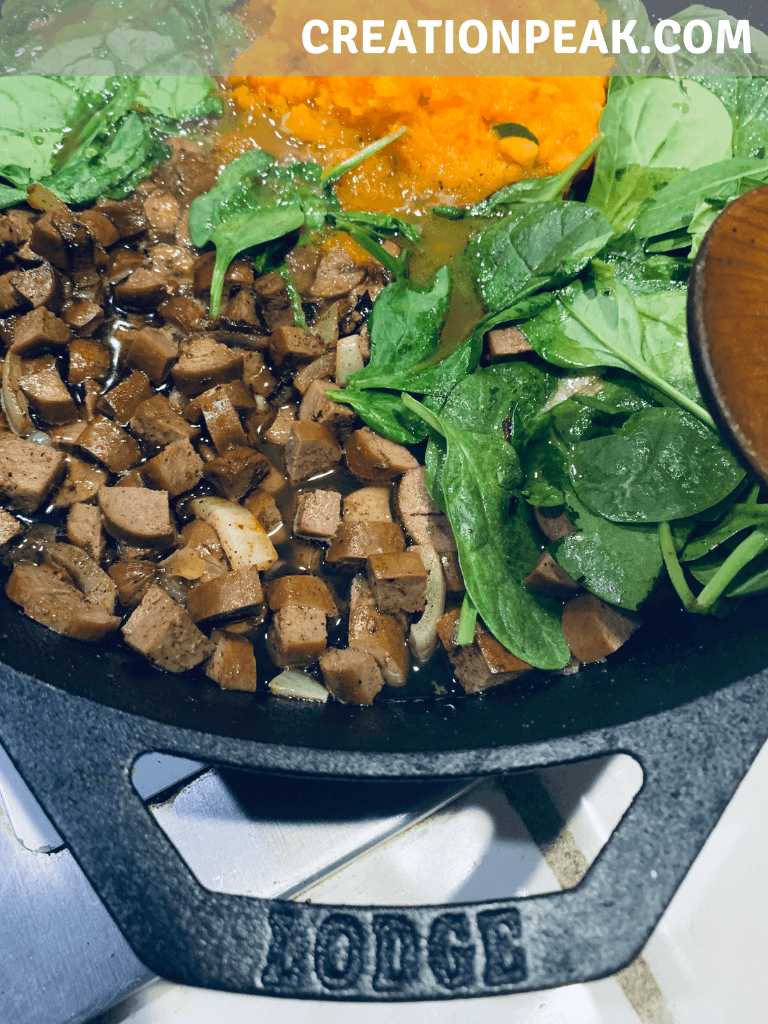 Here I used beef franks, spinach, butternut squash, onions and garlic. Delicious!
​(​By the way, The Fridge Meal Formula is one of my favorite ways to cook because it's a one-pot meal, which means no time-consuming clean up! 🙂 )
​Buying Healthy Food Online
​As an entrepreneur, I'm sure you know that eating well takes planning (​just like business). ​This means keeping your fridge stocked with high-quality foods so you can make ​"The Fridge Meal Formula," have healthy snacks on hand and ​just be able to give yourself the fuel you need ​to perform well each day.
​This article lists some of my favorite online retailers. These resources are my go-to suppliers for healthy fats, proteins, spices, bone broths and most everything else.
​Want to save even more time? ​Don't cook!
This post ​has my go-to recommendations ​for organic meal delivery services. The companies serve many diets and support eating well by including ​organic veggies, grass-fed meats, wild-caught seafood and more. ​(​Just heat and eat.) ​
​MORE POSTS ON ​EATING HEALTHY WITH A BUSY LIFESTYLE:
​START: Eating Healthy with A Busy Lifestyle