Welcome to the first episode of The Creation Peak Show podcast. Yes! It's so great to finally be at this point. 🙂
In episode 1, I talk about what this show is all about, what to expect in future episodes, what Creation Peak means and ​​describe show logistics (e.g., how often I publish, etc.).
​I also​ talk about how I'll be reading Think and Grow Rich by Napoleon Hill (public domain version) ​on the show. (Btw, it begins in episode 2).
​And just like this website, The Creation Peak Show discusses all the topics that relate to taking care of yourself as an entrepreneur and/or success driven person. For example, the next two podcasts focus on having a strong mindset, which is why Think and Grow ​Rich is being read on the show. ​
​
​Remember, the world needs what you have to offer and I wanted to create this show to help support all of our endeavors. Thank you for listening, my friend!
​Links Mentioned On ​This Episode​:
​https://creationpeak.com/tagr (This page wasn't mentioned in the podcast, but it contains​ information about the book I'll be reading​ in in the next episode in case you want to check it out ahead of time.)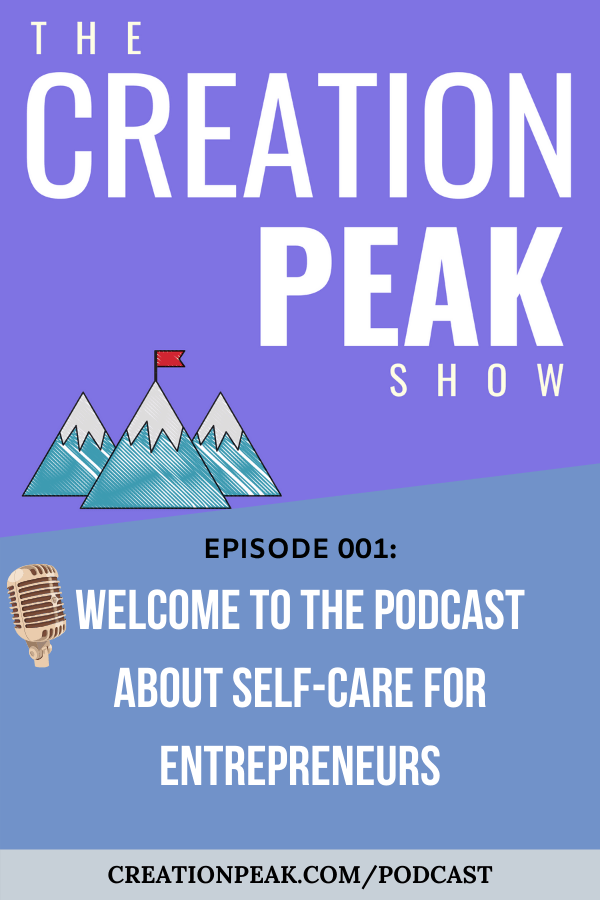 ​​Coming Up:
Thank you so much for your support. In the next episode, you can listen to Chapter 1 of Think and Grow Rich. Enjoy!
Transcript
(I'm using an automated transcription service so please excuse any weirdness in the text. Thanks for understanding! 🙂 )
Episode 001 — Welcome To The Creation Peak Show!
Hi everyone. This is Jenny from Creation Peak. Welcome to the first episode of The Creation Peaks Show podcast. This is something that I've been wanting to do for a while and I am really, really excited that I'm finally doing it. I kept wondering if I was ready. Probably not, but let's get started anyway!
So even though Creation Peak might sound like an outdoorsy type of show, and I'd actually love to do that at some point, this podcast is all about taking care of yourself as an entrepreneur. By the way, I'm an entrepreneur as well, and even if you don't identify as an entrepreneur, if you're someone who's seriously focused on achieving your goals, then this show will definitely serve you too.
It may seem odd than an entrepreneur podcast would focus on self care, but I feel like driven people go through some common mental, physical and emotional roadblocks of pursuing their dreams. So I wanted to create a space that's dedicated to this category. Also, I talk my partner's ear off all the time about these topics, so this podcast is one way to give her a break. (You're welcome. Jesse.)
So what do I mean when I say common roadblocks? Well, for one, how do you find time to exercise and eat well when you have such a busy lifestyle? (I imagine you have a full schedule because you're making things happen.) How do you feed yourself when you are so focused on something and don't really have time to stop? What if you have to travel? How do you carry your diet with you? And what if you don't have time to make some time intensive meal? What can you do so that you eat healthy and just not end up eating crap?
Now I just want to clarify. I'm not a health professional and I'm not here to tell anybody how to eat, but these are some of the things I personally struggled with. So I came up with a bunch of strategies and I just really want to share them with everybody. And what about keeping an entrepreneurial mindset? That alone could be a whole podcast on its own. I want to discuss things like how do you stay motivated before you've seen evidence of success? How do you manage self doubt and how do you deal with mindset blocks like procrastination and stress? There's also taking care of your stress levels, making sure you get good sleep because sometimes the brain just doesn't want to turn off at night and a lot of other things that really fall into this category.
So before I continue, I just want to tell you a little bit about me in case you haven't been to my website yet. So my name is Jenny and I used to work in the corporate world. I've held jobs that are at great companies and with the right perks, you know, like benefits and such and that really paid the bills. But I was absolutely miserable because it just was never a good match. And I have a very supportive partner. So I quit my job to start a business for awhile. I was a freelance writer for various online media and I also did lampworking, which is working with molten glass at a torch and selling the glass objects that I made. That was so much fun and I would love to return to that again at some point.
Anyway, as I began building my online business, I started getting hit with all of the well-being topics I mentioned before. I had definitely encountered these things in my previous business ventures, but at that time, I don't think I really realized just how much the physical and mental health greatly affects how well you can perform. For example, I had to change my eating and exercise habits because I was getting just horrible weekly migraines and I also needed to manage my weight better. So I experimented with different foods, different diet protocols. I found what worked for me, but there were some unexpected side effects. For example, I had way more energy. Actually. I did expect that, but I also had a much clearer mind. It was so much easier for me to focus and to think and to strategize than it had been before. It wasn't such a struggle. So when I started having incredibly full days building my online business, I became hyper vigilant of protecting my health because I didn't want to return to the problems that I used to have.
And building this online business, I noticed all of these mindset issues pop up too. I think it was more intense this time because those first businesses didn't perform at the level I wanted them to. So I was dealing with a lot of self doubt and fear of failure. I started having this inner evil critic make an appearance and a lot of the issues I mentioned started popping up and it just truly shocked me. So I'm a problem solver and I love to share information. So what I did was I started buying books and researching, coming up with strategies to really solve these issues because I've never been content to just experience something unpleasant and live with it. I also popped into various online forums and I saw that a lot of business owners were mentioning the very same things, the same obstacles that I was dealing with, and it was actually very surprising. I think it was because sometimes when you're going through something, it's kind of easy to think that you might be the only one that's dealing with this type of a complication.
Maybe you know what I'm talking about?
And, even just visiting online business sites to get information for my particular business, I noticed that a lot of them also have some of a mindset or a personal development or a health category on their pages. So that just further convinced me to go forward with Creation Peak.
I also want to mention that I'm really excited to be in this niche because at this point in time, as I'm building my online business, I want to capture all of those instances that I get tripped up so that I can share the information and the solutions that I find. I think that sometimes when you've reached your destination or quote unquote make it, you might not necessarily remember all of the keys to how you got there. It's like these things can fall into a blind spot and sometimes it's these blind spot moments that can really help somebody else and get them unstuck. So that's also what a big part of Creation Peak is as well.
And Creation Peak by the way, is that place to me where the mental, the emotional and the physical aspects are all taken care of so that you can actually perform at your peak level.
Here's what I wrote on my About page:
"Creation Peak focuses on the self care side of entrepreneurship so that you can bring your best work into existence without sacrificing your mind, body, or spirit in the process. In other words, let's silence all the noise so you can create in peace."
So on my website and podcast, I'm going to share the information and solutions that I find to help us all. We really are all in this together and I'm excited to support other driven people in this way.
And another thing that I'm doing too on this podcast that I'm actually really excited about is reading, Think and Grow Rich by Napoleon Hill. I pulled the original 1937 version of this book from the public domain, so I'll be reading each chapter on the show. And, I looked this up, this is one of the most recommended books that I've found that can help build your success conscious mindset and help you achieve your goals.
Plus, I really like to read out loud and it gives me an opportunity to absorb the lessons better, so thank you for helping me do this. In fact, coming up in the next episode I'll be reading chapter one. I really hope you tune in!
So before I sign off, if you also struggle with eating while having a very busy lifestyle, I actually have a series called "Eating Healthy with A Busy Lifestyle" on my website. You can go visit that at creationpeak.com/eat.
You'll get a lot of downloadable resources that I've set up on these pages and you'll get all of the strategies that I've set up, and I sincerely hope this helps because that is my intention by publishing this information.
And lastly, I would love it if you subscribe to my podcast and join what I call the Creation Peak Tribe. I'm really happy that you're here. I'm actually very honored by it and thank you for spending time with me. I'm really excited for us to take this journey together.
Until next time, my friend!
Sign up to receive email updates
Enter your name and email address below and I'll send you periodic updates about the podcast.